The Nativity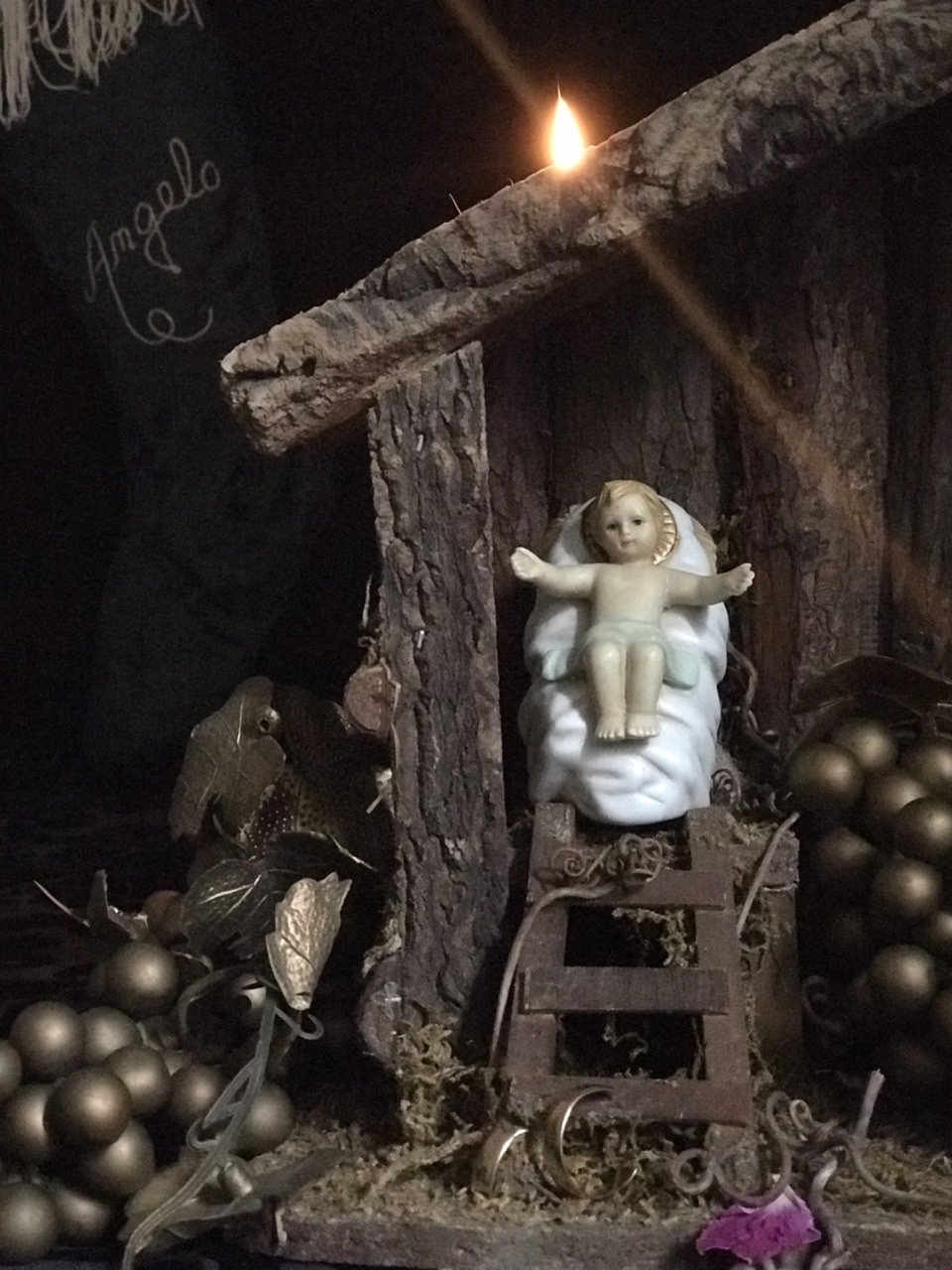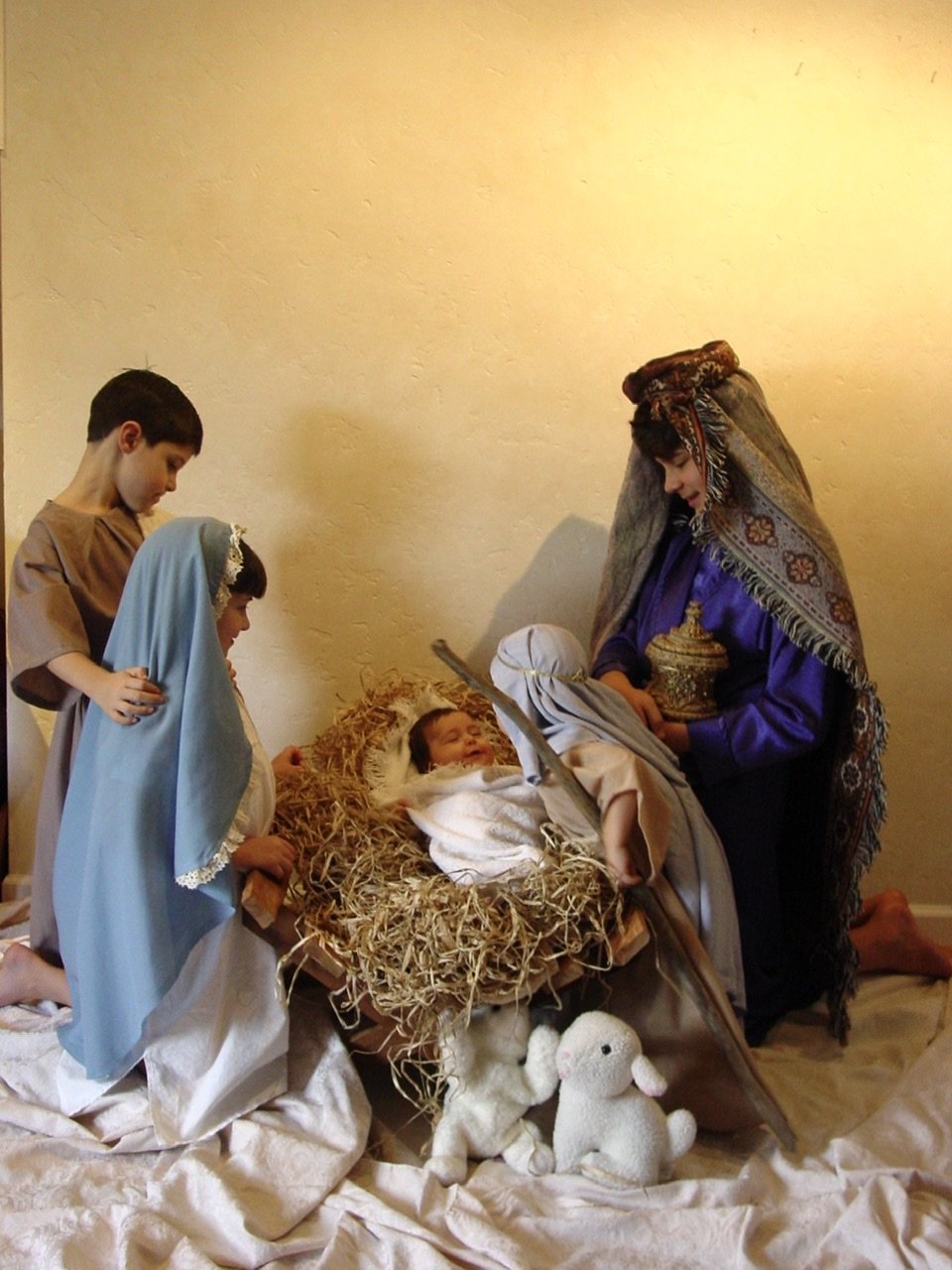 When our children were young we began lighting an Advent wreath at Christmas time. Tasha Tudor's idyllic holiday art inspired me to bring loveliness into each season of their childhood. We would light the candles and then go around the table three times, each person reciting the same verse from the Gospel of Luke. In this way my children memorized the story of the birth Christ one Christmas season.
We did this with Psalm 1 and Proverbs 3 and other verses as well. It was a sweet way to tuck these words into their hearts.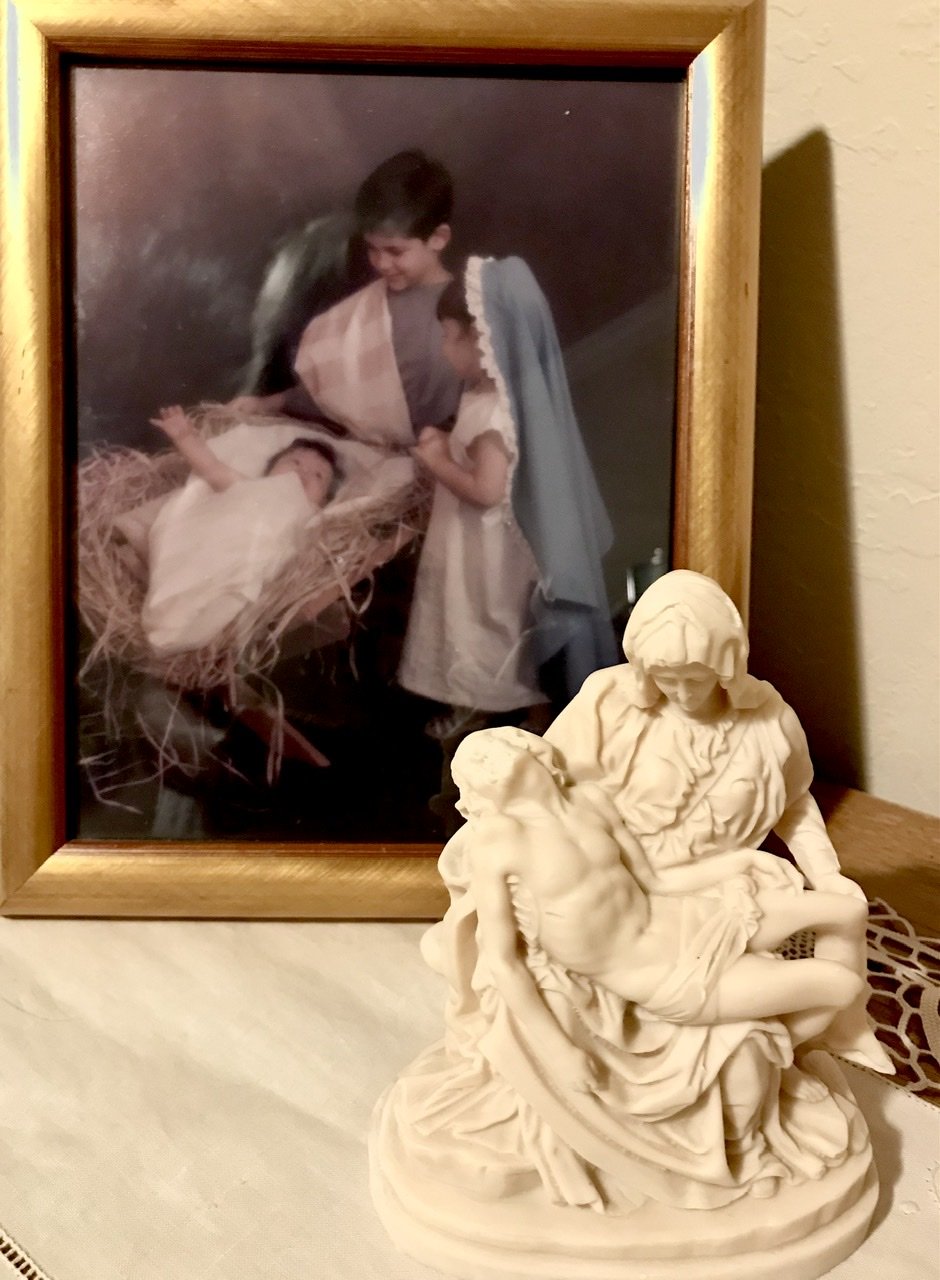 When our second son was a baby , I realized we had a baby Jesus, a Joseph, our oldest son and a Mary our daughter, for Christmas cards photos. I sewed robes and a veil, and Angelo and Bodey built a manger. The image was magical.
Another boy, another Baby Jesus and a shepherd and an angel were added to the cast.
We decided to read or recite Luke 2 on Christmas Eve one year and have the children act out the Nativity story. A tradition had begun. Over the years uncles and cousins and friends were invited to be Wise Men or shepherds as we brought Christ into the Christmas chaos, peace as the pasta was cooking and The Light into the love of family celebration.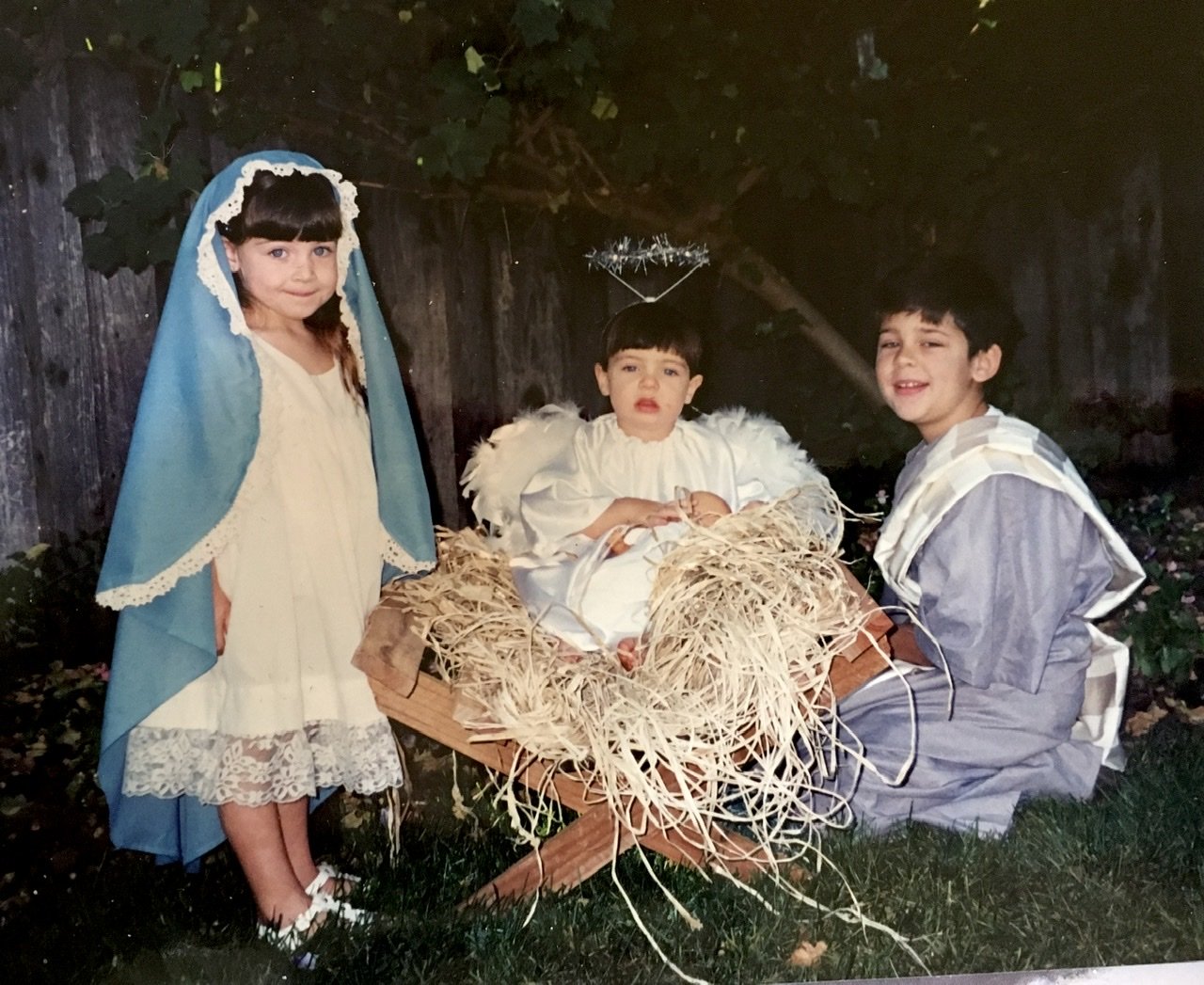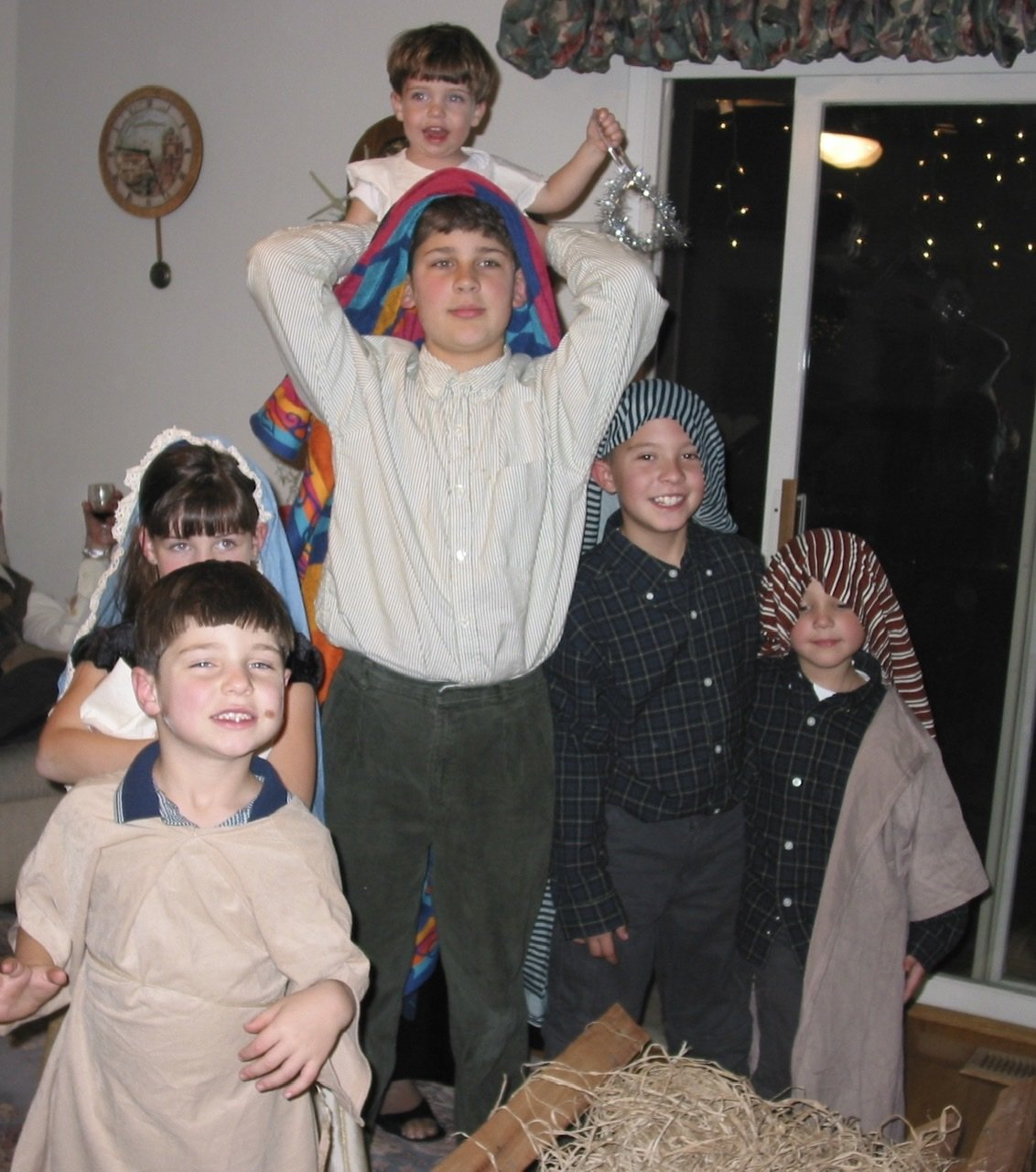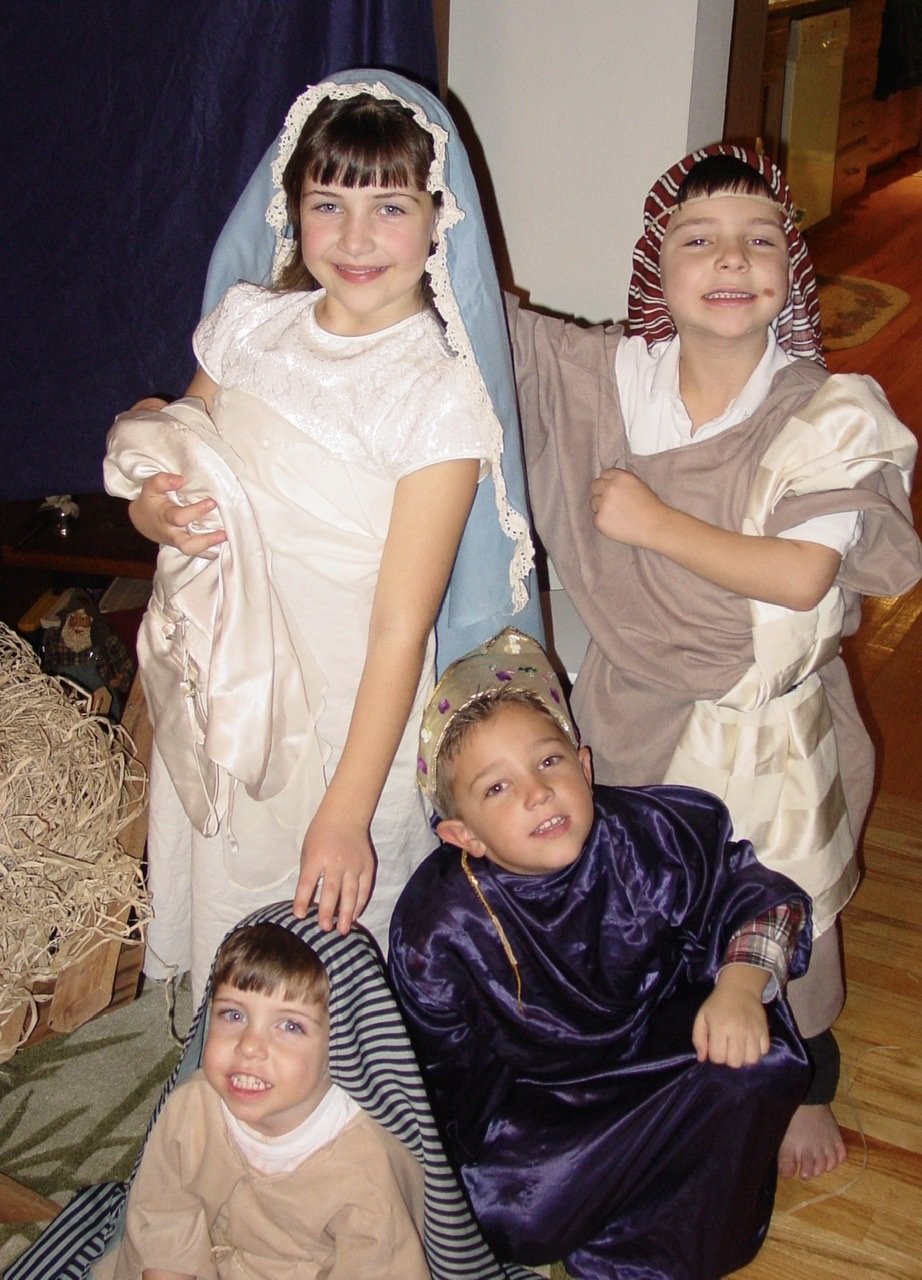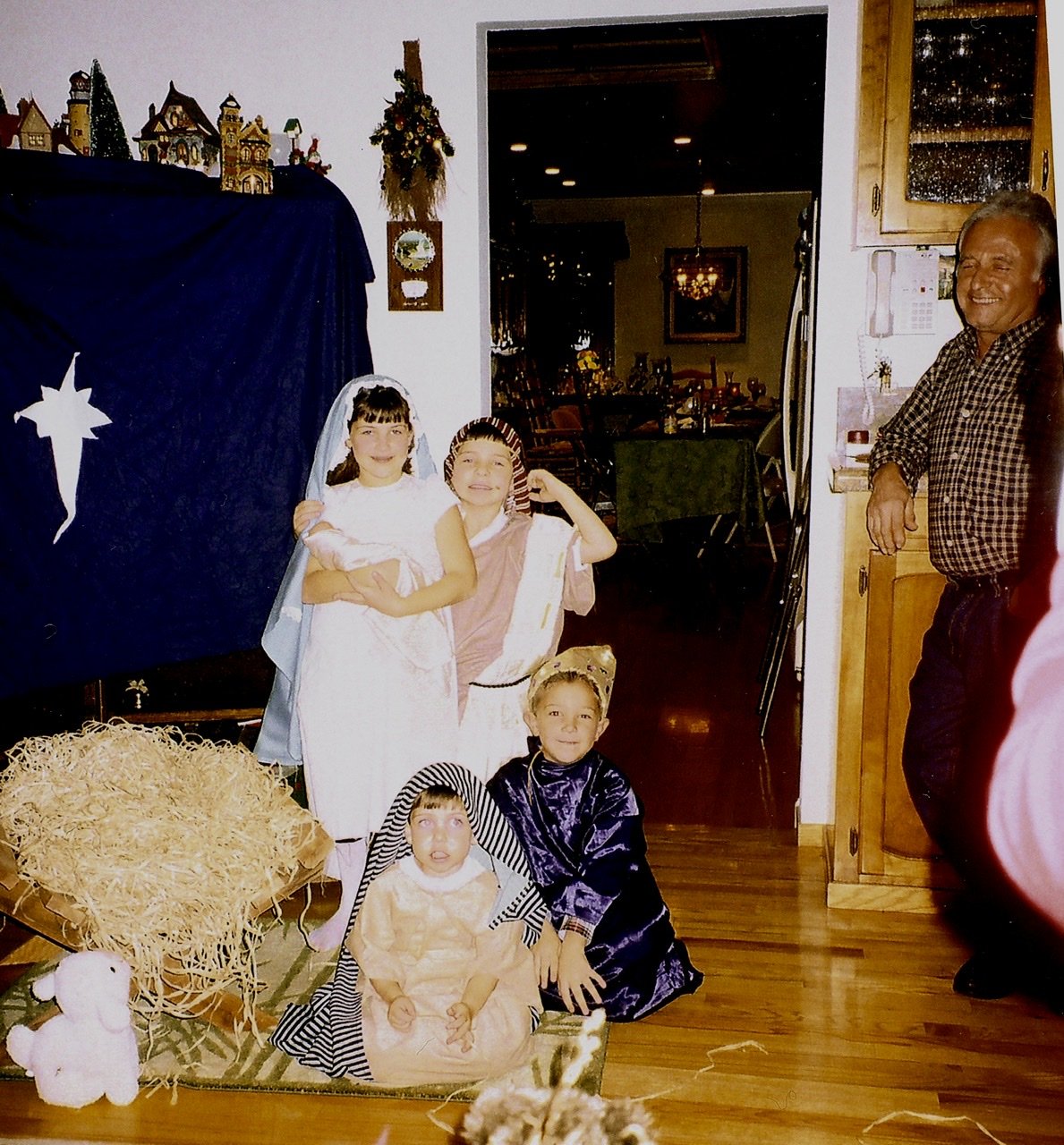 Angelo and I would set the stage together having packed the manger up with the presents. He would recite , with many smiling, patient pauses as children added uniquely to the performance. I was the little chick gathering director, costume designer , whispering line feeder and admiring fan of the sweetest little group of actors.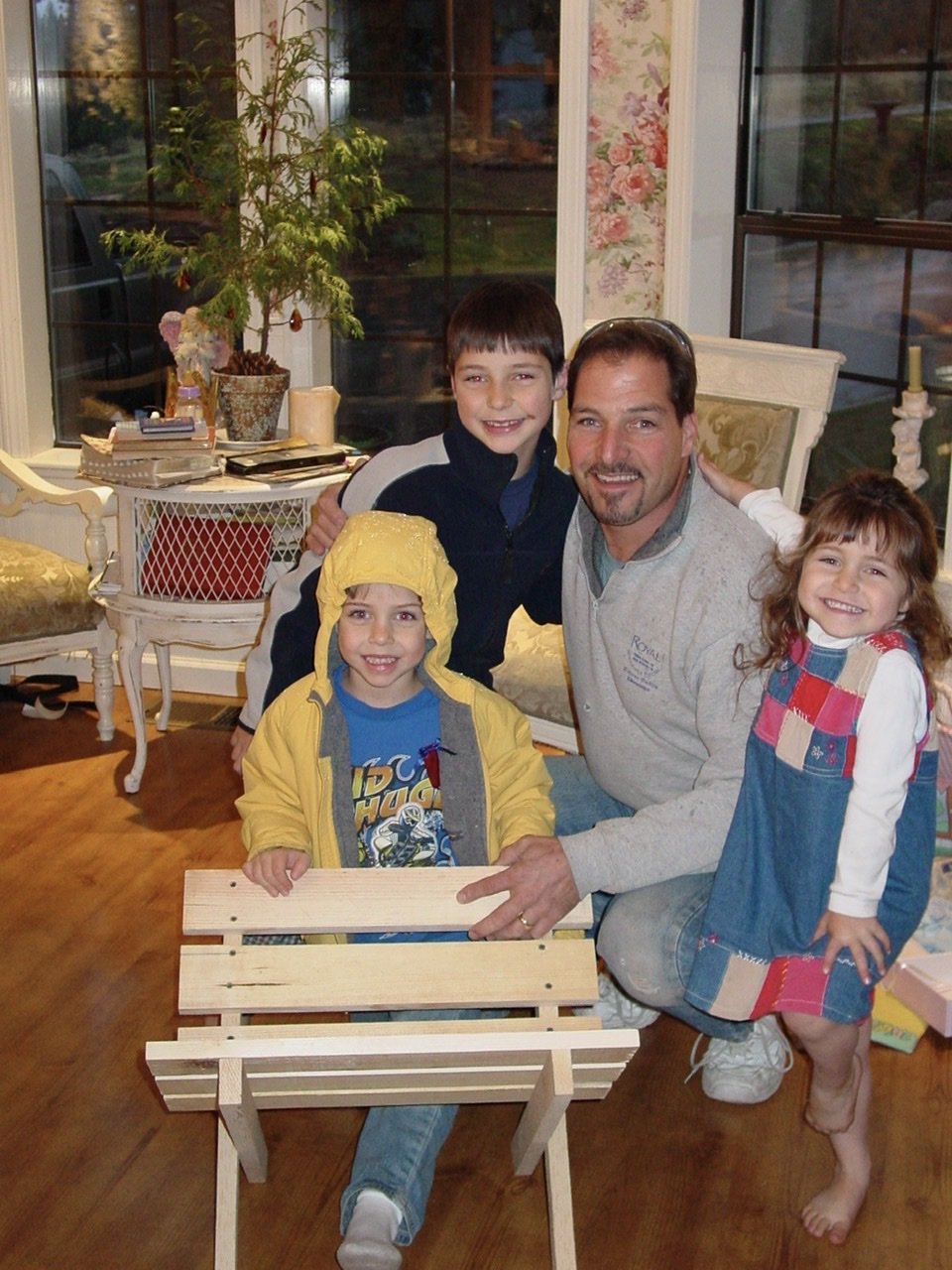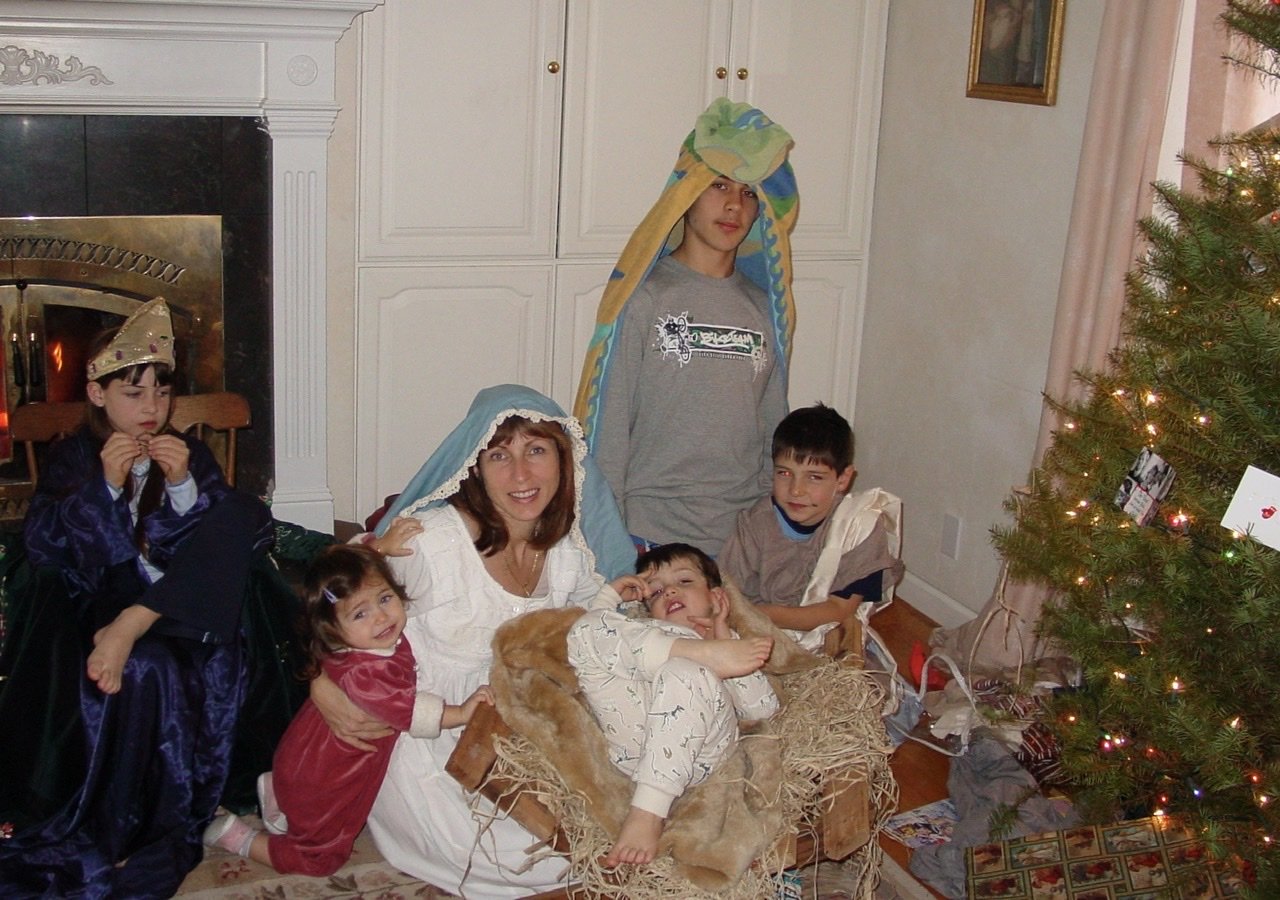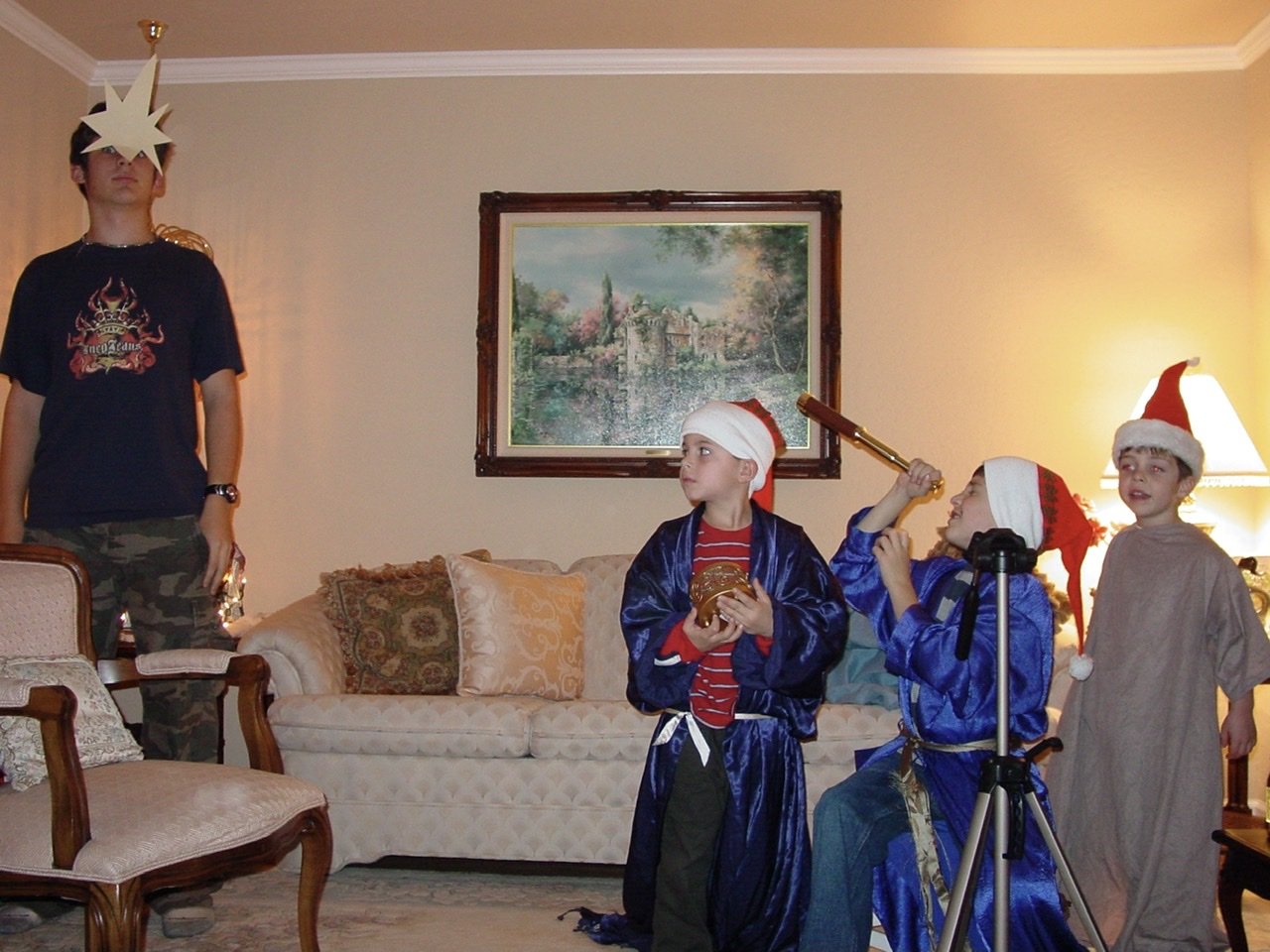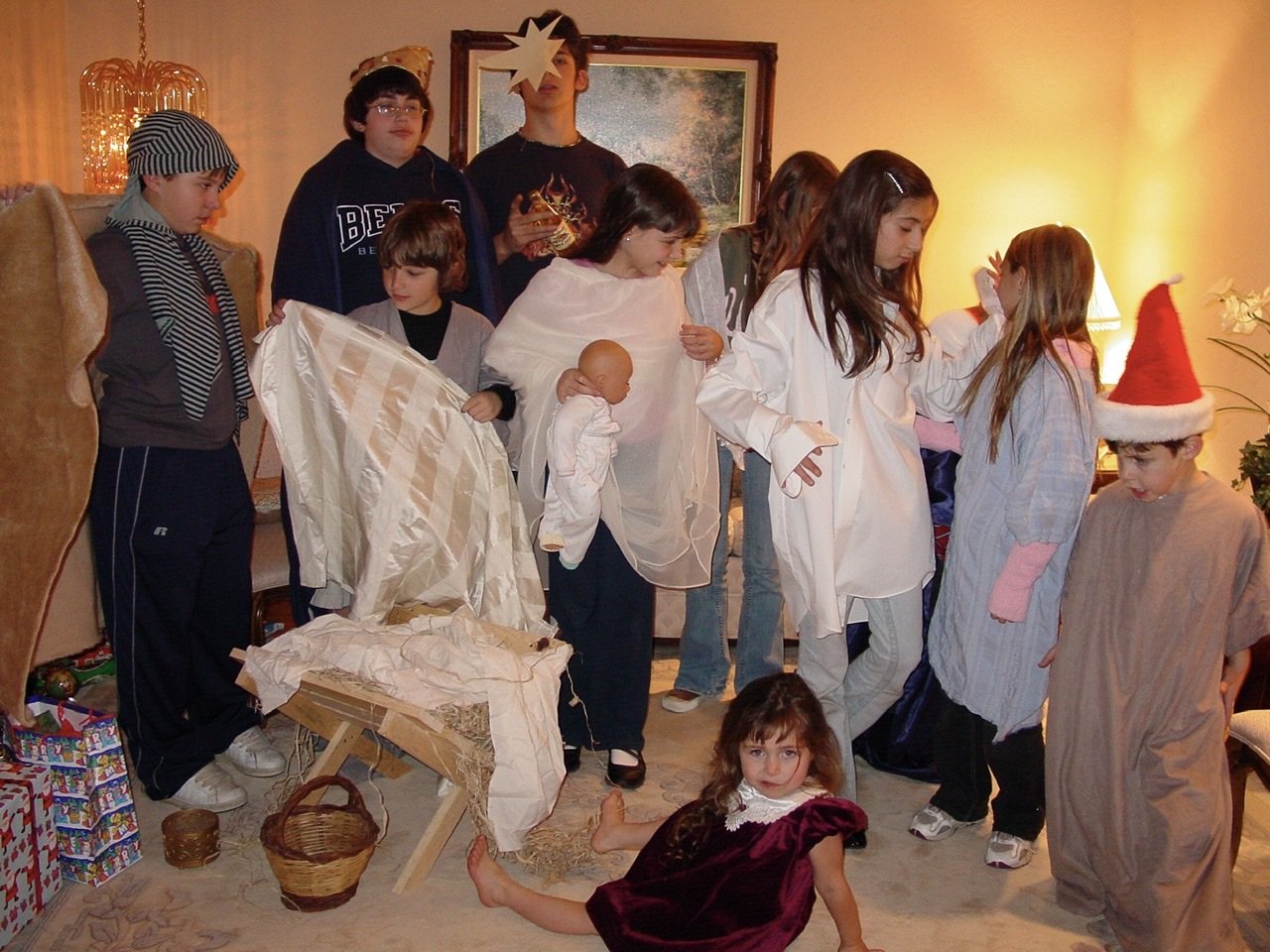 We did that together, Angelo and I. I can see his eyes and smile as we looked to each other throughout the performance. We were trying our best to sow seeds of understanding in our children. We wanted to help them grasp that God had mysteriously and miraculously sent his Son to be born as a helpless baby. That there were real people who were there, a loving mother, a brave step father, humble shepherds all witnessing, responding and then living with this miracle. We wanted them to know that God is not distant and careless, but very near, present and understanding of our humanness.
Every time the drama was performed was a little slice of Heaven that delighted Angelo's heart and nourished my mother's soul.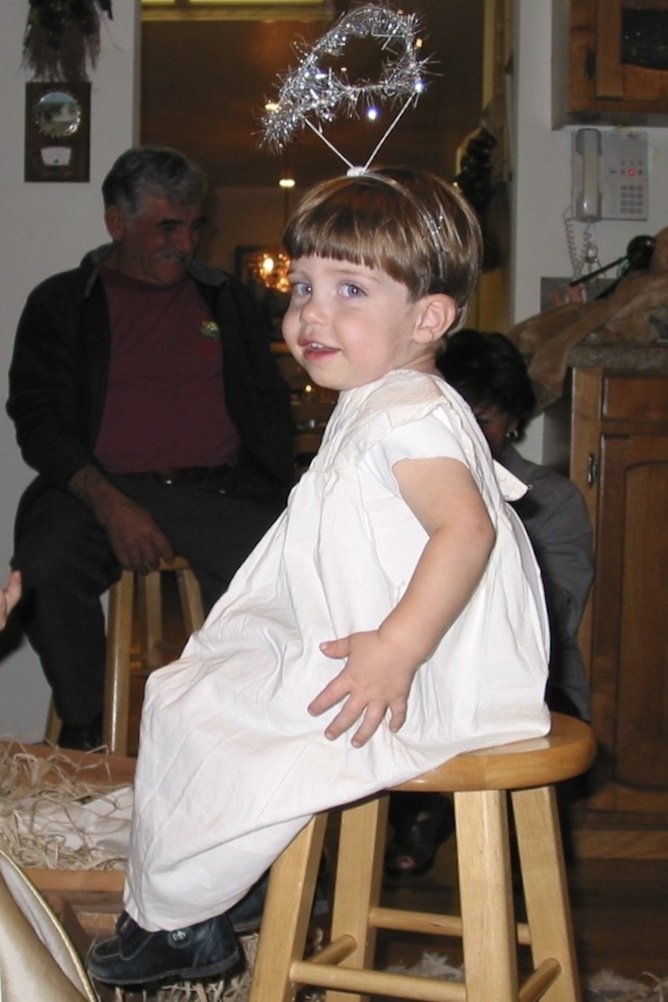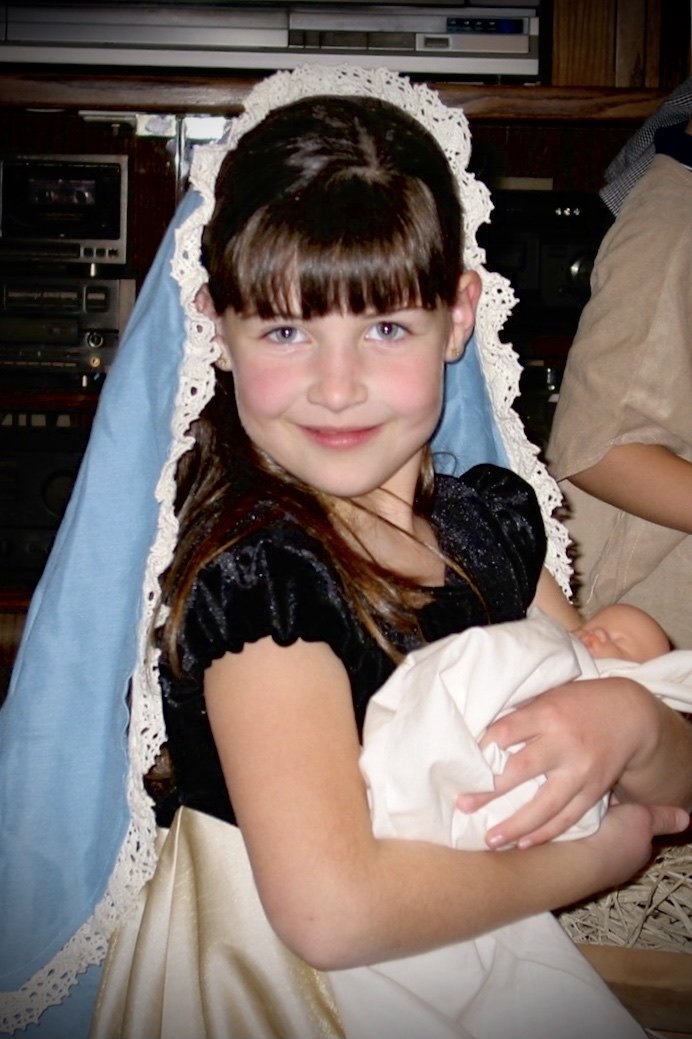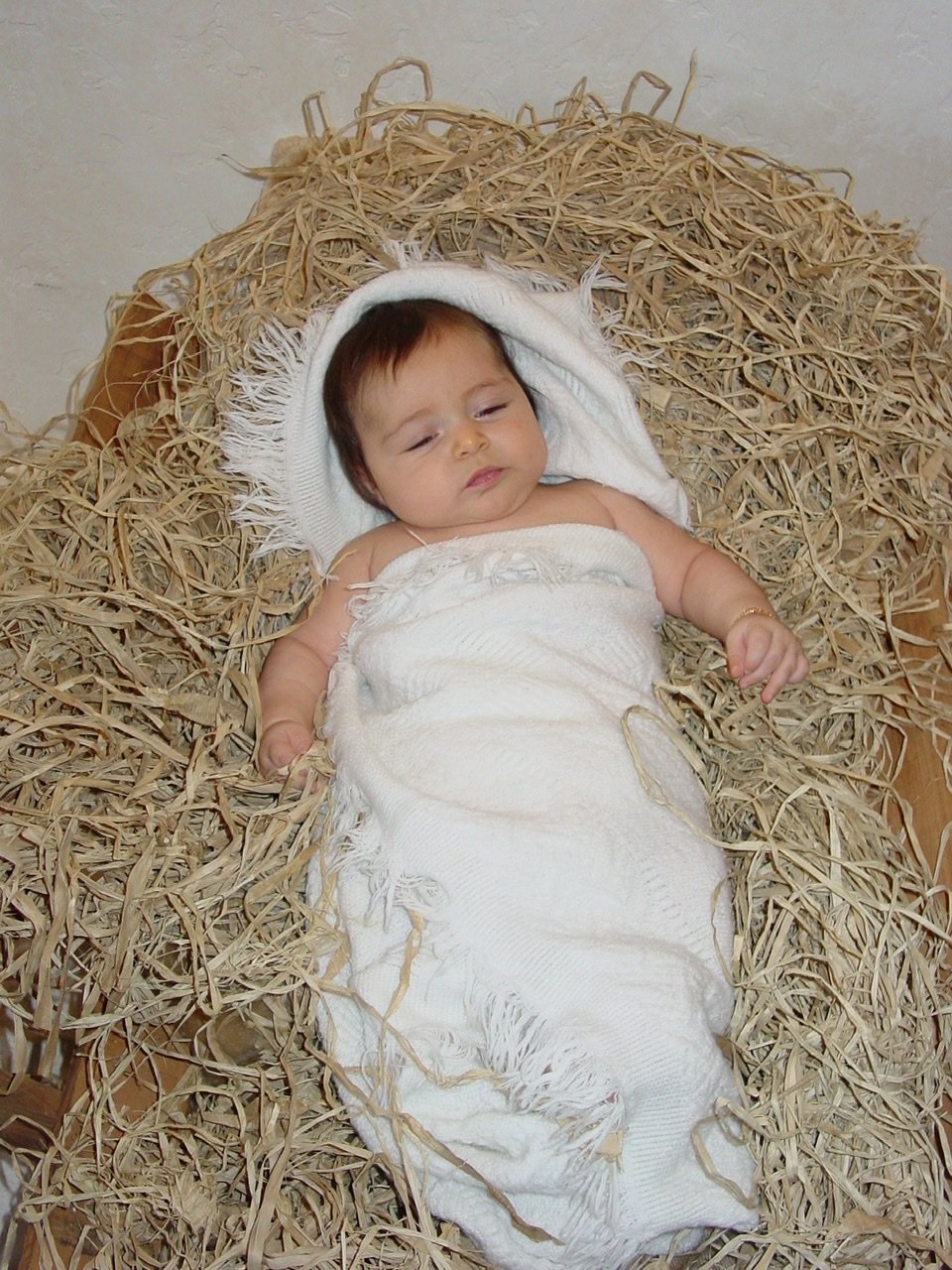 In those days Caesar Augustus issued a decree that a census should be taken of the entire Roman world.(This was the first census that took place whileQuirinius was governor of Syria.) And everyone went to their own town to register.
So Joseph also went up from the town of Nazareth in Galilee to Judea, to Bethlehem the town of David, because he belonged to the house and line of David. He went there to register with Mary, who was pledged to be married to him and was expecting a child. While they were there, the time came for the baby to be born, and she gave birth to her firstborn, a son. She wrapped him in cloths and placed him in a manger, because there was no guest room available for them.
And there were shepherds living out in the fields nearby, keeping watch over their flocks at night. An angel of the Lord appeared to them, and the glory of the Lord shone around them, and they were terrified. But the angel said to them, "Do not be afraid. I bring you good news that will cause great joy for all the people. 11 Today in the town of David a Savior has been born to you; he is the Messiah, the Lord. This will be a sign to you: You will find a baby wrapped in cloths and lying in a manger."
Suddenly a great company of the heavenly host appeared with the angel, praising God and saying,
"Glory to God in the highest heaven, and on earth peace to those on whom his favor rests." When the angels had left them and gone into heaven, the shepherds said to one another, "Let's go to Bethlehem and see this thing that has happened, which the Lord has told us about."
So they hurried off and found Mary and Joseph, and the baby, who was lying in the manger. When they had seen him, they spread the word concerning what had been told them about this child, and all who heard it were amazed at what the shepherds said to them. 19 But Mary treasured up all these things and pondered them in her heart. The shepherds returned, glorifying and praising God for all the things they had heard and seen, which were just as they had been told.
The Gospel of Luke 2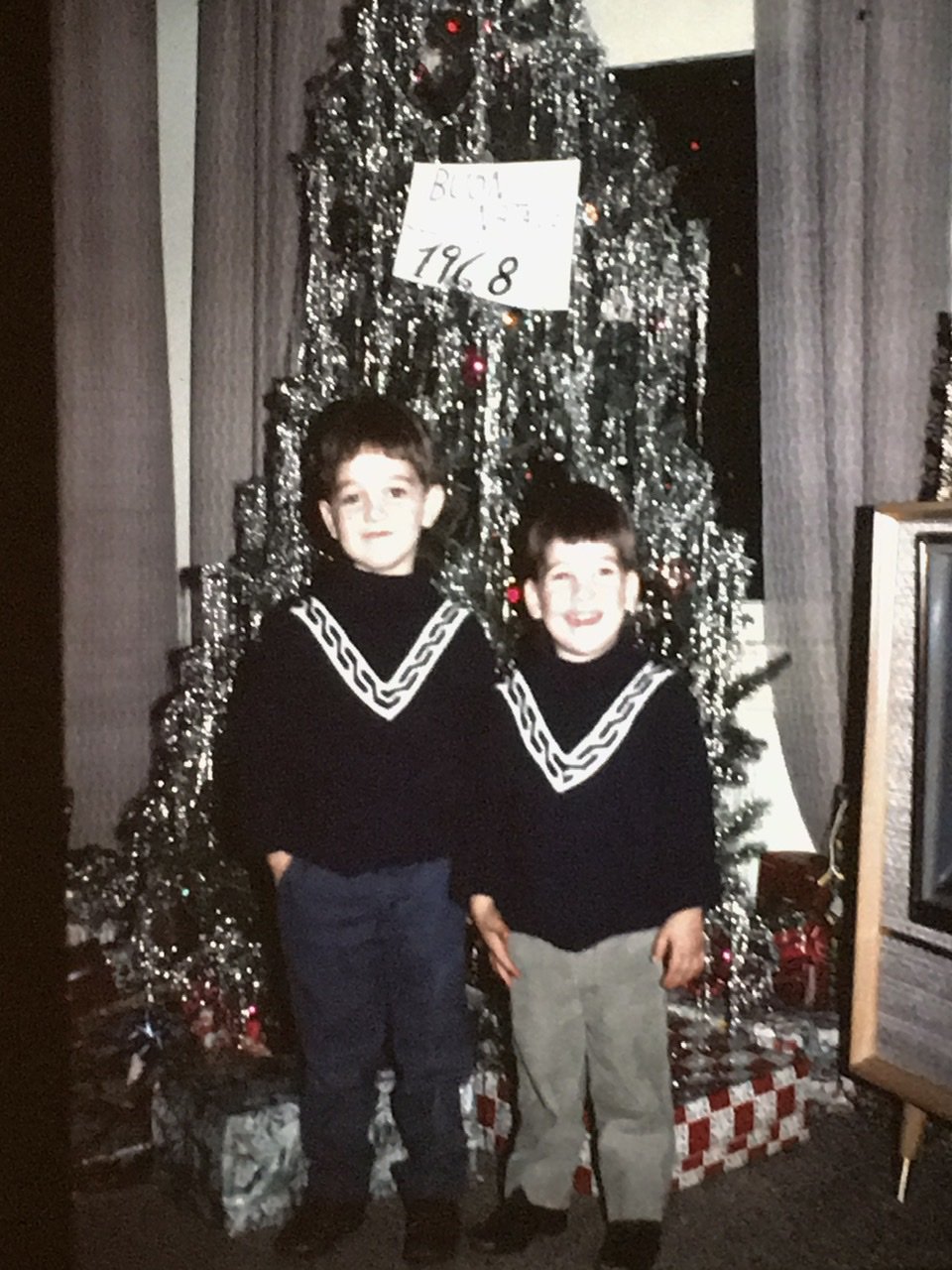 1968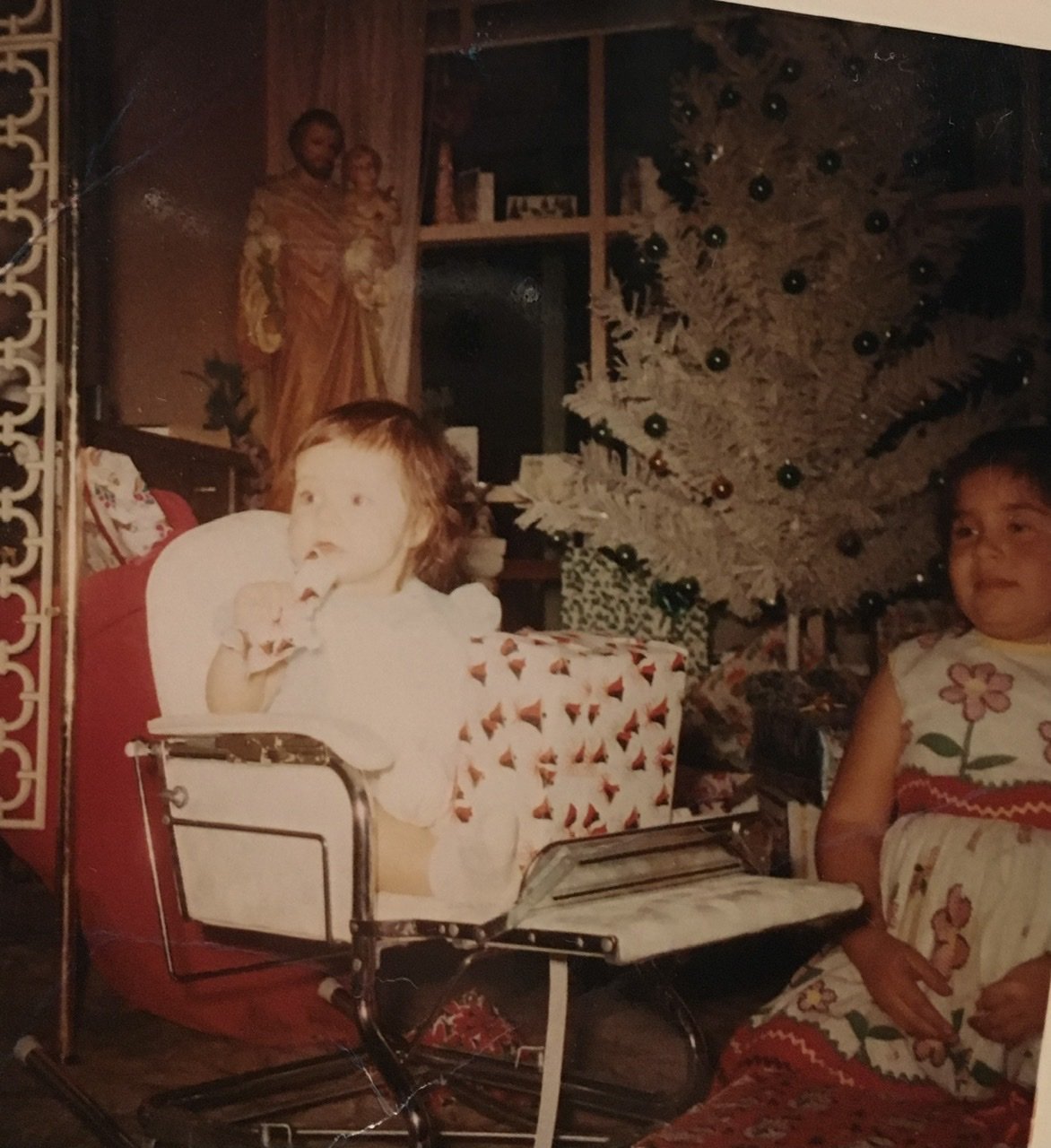 1967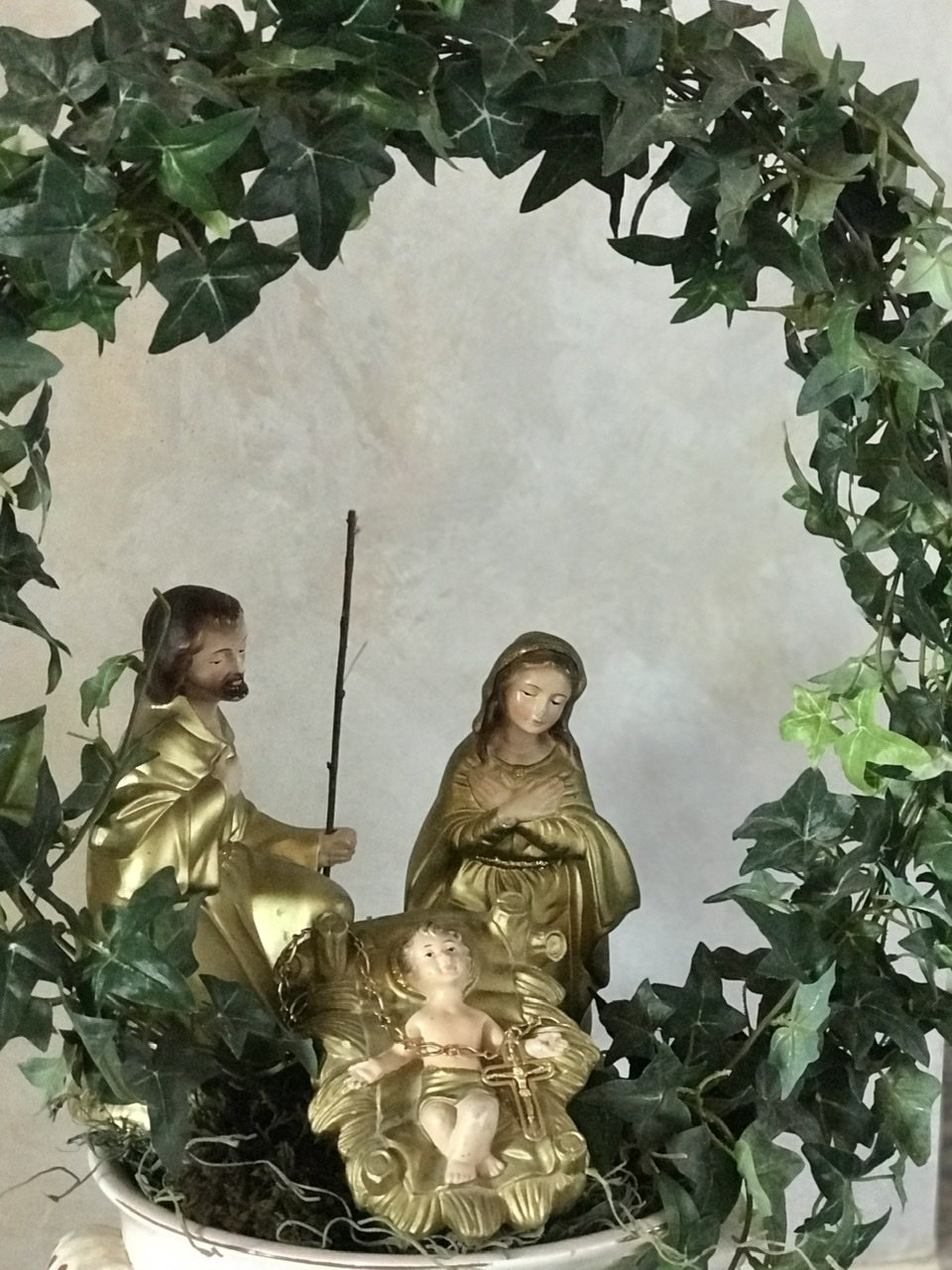 For to us a child is born, to us a son is given, and the government will be on his shoulders. And he will be called Wonderful Counselor, Mighty God, Everlasting Father, Prince of Peace. Of the greatness of his government and peace there will be no end. He will reign on David's throne and over his kingdom, establishing and upholding it with justice and righteousness from that time on and forever. The zeal of the Lord Almighty will accomplish this.
Isaiah 9:6,7
The true light that gives light to everyone was coming into the world. 10 He was in the world, and though the world was made through him, the world did not recognize him....
The Word became flesh and made his dwelling among us. We have seen his glory, the glory of the one and only Son, who came from the Father, full of grace and truth.
from The Gospel of John